"An egg is two ingredients, not one." I wish I can remember who said that, or where I read it. What I can do though is completely agree that that genius sure knew what s/he was talking about. This fancy-schmancy cup of dessert here is proof. Amazing, albeit pretentious, proof.
How this came about started with a simple, sensible, non-avant-garde peach custard pie. The recipe called for three egg yolks and only one egg white. Having read quite a few cookbooks and food blogs, it never crossed my mind to throw the rest of the whites away. (Who does that??) After I placed the pie in the oven and said a silent prayer to the pastry gods (who might kiss me one pan and kick me as soon as the next batch) I looked for a recipe for one of my favorite childhood treats ever: meringue cookies.
When we were kids, my sister and I would buy meringue cookies from the neighbor's sari-sari store more often than our mother was happy about. The cookies were simply called 'icing', and I thought they were one of the most awesome things in the world: the light, smooth, melt-in-your-mouth bites from these pretty pink rosettes, packed aligned in a lovely column inside thin ice bags that just waved to me from behind the wire mesh of the store front. Such a treat.
They are easy enough to make, thankfully. These little morsels are too sweet to eat a lot of in one sitting (I feel all grown up saying that!), so the day after I made them, there were still a few left over. I also had leftover peaches and whipped cream from the same pie, and I kept wishing I'd turned some of the mix into pavlova. And then I was like, who said I can't back-engineer food? There was this salad that my husband and I used to order, called a "Deconstructed Waldorf Salad", which was a Waldorf salad assembled in reverse order. So I ran with it, and turned a peach pavlova upside down. I thought I was pretty funny.
Turns out 'deconstructed pavlova' is actually a real dish, and I didn't know this until I sat to write this post. That's not to imply that I conceitedly thought I invented it, but after all, isn't it merely 'meringue cookies eaten with peaches and cream'? It amuses me that it's actually on some fancy pants menu out there. But yes, I've found that my version is a sorry shadow of the many beautiful platings that came up on my Google search. That doesn't change the fact that when I make this again, I will probably call it what it is: meringue cookies with peaches and cream!
The recipe for the cookie is simple enough, but I do recommend an electric whisk or mixer, unless manual whipping is your idea of a good exercise. I've put together bits and pieces from different recipes and the comments people have left on them.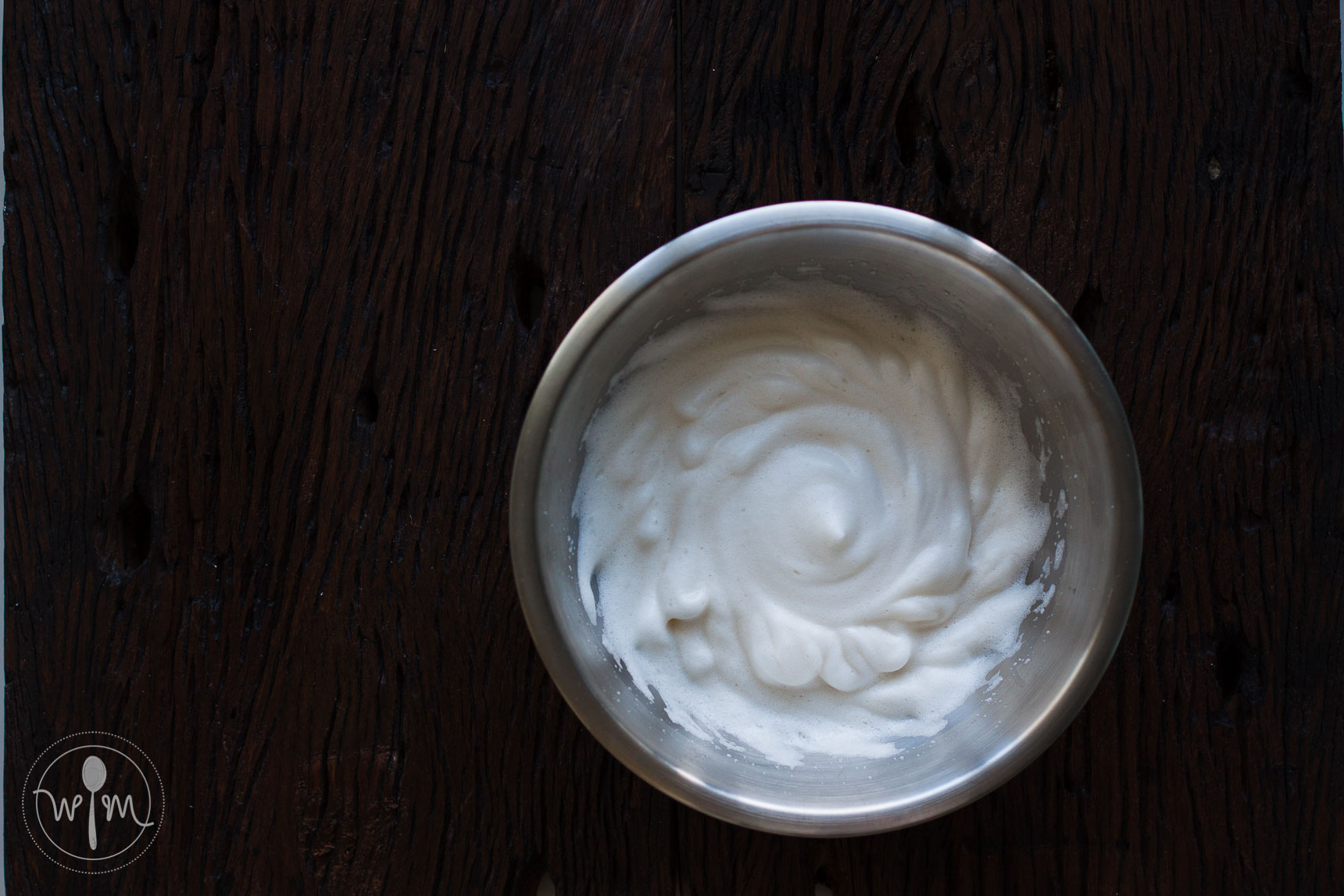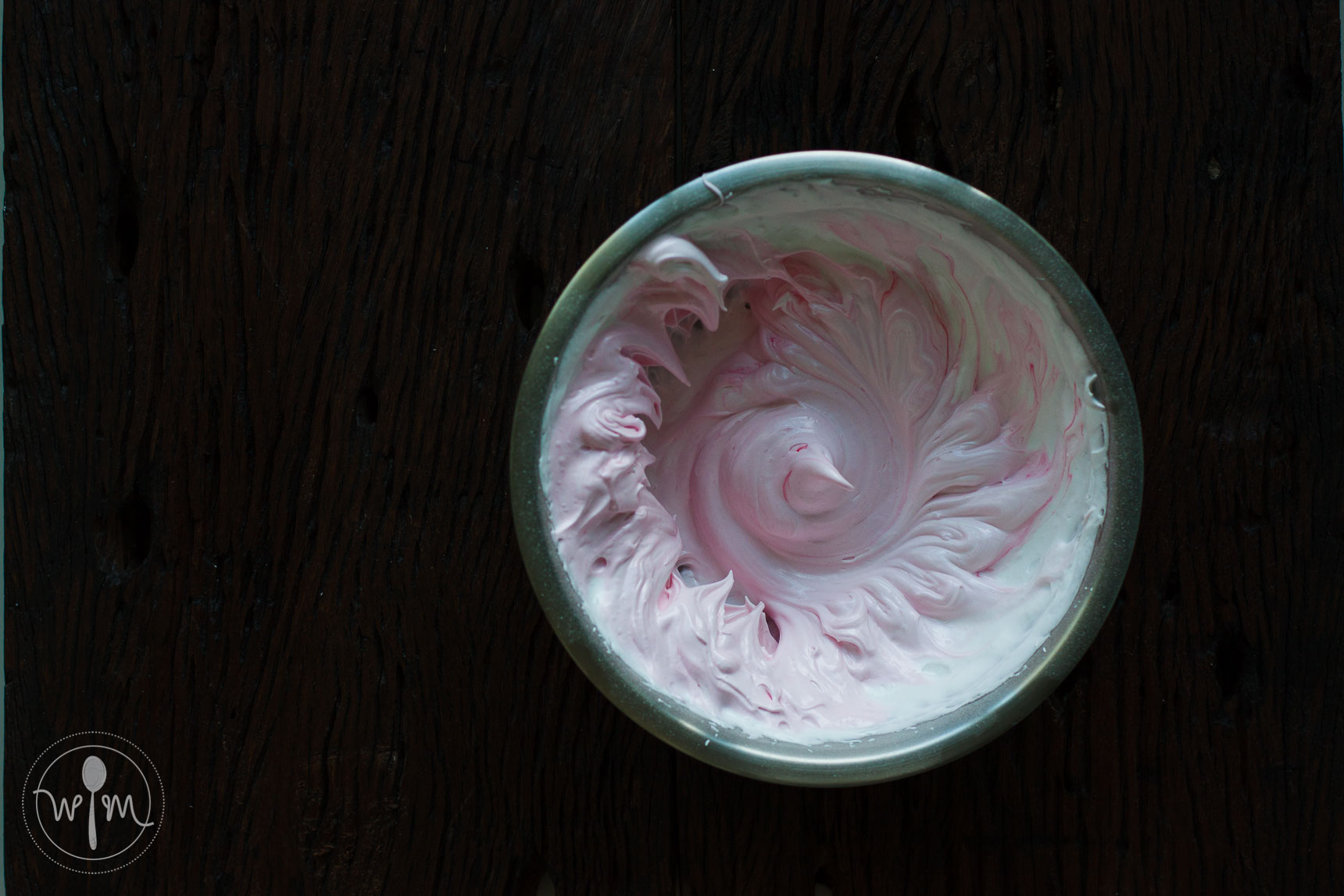 Deconstructed Peach and Berry Pavlova

Preparation Time 5 minutes
Ready in about 2 hours
Difficulty Average
Serves about 5-6
Ingredients
For the meringue cookies:
1/4 cup + 2 tablespoons caster sugar
1 teaspoon cornstarch
2 egg whites
1/2 teaspoon vanilla extract
pinch of salt
To assemble:
1/2 cup heavy/whipping cream
1 tablespoon icing sugar
2 tablespoons mixed berry jam
1 cup of sliced peaches
Preparation
Preheat oven to 250 degrees Fahrenheit. Line cookie sheets with parchment paper. In a small bowl, sift together the caster sugar and cornstarch.
In your mixing bowl, swirl together the vanilla and salt. Add the egg whites and whip to soft peaks (see photo).
Once you have the soft peaks, start adding the sugar mixture a tablespoon at a time, whipping briefly after each addition.
When you've finished adding all the sugar and cornstarch, whip the whole mixture to stiff peaks (see photo).
Add two drops of gel food color and whip to distribute. Scoop out half the mixture to a piping bag fitted with a large open star tip. To the remaining mixture, add one drop of blue gel food color and whip again. Scoop all this to another piping bag.
Pipe florets of about 1/2 tablespoonfuls onto the parchment-lined cookie sheets. Bake in preheated oven for 45 minutes.
When done, turn off the heat but keep the pan of cookies in the oven to cool down for about an hour.
While waiting for the meringues to cool, whip the heavy cream and icing sugar to stiff peaks. Cut each peach slice into 4-5 smaller pieces.
To assemble, spoon peaches to a cup, top with whipped cream, smear with berry jam and place 4-5 meringue cookies on top. Serve immediately.
Notes
Feel free to change up the fruits and jam combination, explore and experiment with flavours!
Using a coupler on piping bags is the best way to use the same icing tip for both colours. I don't have the correct coupler size, so I actually scooped the purple into the same bag as the pink and ended up with some interesting pink and purple swirl cookies. Feel free to play!
If you don't have a piping bag, you can scoop your meringue into a large ziplock bag, cut off one corner and pipe away!